Fiction
For most of my adult life, I have been writing fiction – my first love. Since September 2007, after decades of completion avoidance, I put aside all my excuses and began to work seriously. Until I realized that "always wanted to be a writer" meant I had to finish the work I had started before I could say, "I am a writer", I had thousands of words on reams of pages. I write about my writing process, philosophies and social commentary at Everwriting: A Passion for Writing. I am also a member of the group blog, Classic and Cozy and Avalon Authors (now an archive). All of my posts from Avalon Authors are now available on Ink on the Carpet as well. I am a member of Maine Romance Writers.
While I am constantly writing, I am not constantly publishing. This is a time-constraint matter, not an opportunity-constraint. In today's digital glory, writers are not restricted from making their work available to readers. In 2011, once I had a traditional New York-based, "legacy" publisher committed to publishing Wait a Lonely Lifetime, I took the chance to become an independent publisher of my own novels, writing Welsh Medieval Romance under a pseudonym.
Shortly after the independent publication of the first novel I wrote in the Historical Romance genre, I indie-published contemporary women's fiction & romance, the most recent of which is This Can't Be Love, part of the Americans In Love series.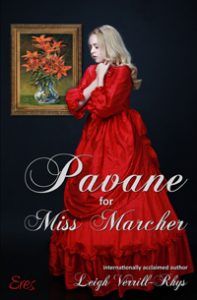 Recently, I published an American Historical novel, set in the period following the American civil war, Pavane for Miss Marcher. This novel was inspired by my familial connection to the battle of Little Round Top at Gettysburg, Clara Barton, Ken Burns's civil war documentaries and a childhood reminiscence of the songs of that momentous event in our shared history.
When I first mentioned to a fellow writer that I was working on this book, she expressed the opinion that I "had better be on the right side of history." I have since come to the conclusion that there is no "right side", there is only history and what we must learn from it, from all sides and perspectives or, as the great philosophers have repeatedly told us, be condemned to repeat it.
I am now working on a second book in this time period, That Kentucky Boy, which is set in the American West in the 1870s. As I now live in the high plains of the midwest, access to wild west history is on my doorstep and I am making full use of the opportunity, looking at the past from all sides of experience.
Nights Before: The Novel
The print edition of my Nights Before Down In Maine series of six novellas will soon be available. The six novellas, ending with 'Twas the Night Before Christmas Eve, are available as digital editions on Smashwords and Barnes & Noble as well as other online booksellers.
New Year's Eve is a time for reflection and change. Jocelyn has more changes coming at her from all directions beginning on a Portland, Maine winter day than she's faced since her mother's death. None of it bodes well for the junior editor's fledgling career when her fiancé abandons her. If not for three unwise princes, a Viking warrior and a sinkhole…
So starts the last day of an Old Year in Jocelyn Tavers's life. Over the next 12 months, she faces her 26th birthday, falling on Mother's Day, at the same time as she wonders what happened to a certain officious lawman and a certain deserter father remembers her birthday after fifteen years of neglect.
An ex-boyfriend and the appearance of a complete stranger are not the only obstacles to disrupt her author's book launch, especially when that stranger is her next editing assignment.
But this New Year isn't all downhill. Nights Before national holidays bring more than big sale weekends for Joey-Jo, including all she ever wanted for Christmas. Nights Before: The Novel is part of the Down In Maine series. See below for synopses of all six novellas in the series.
January 2015
What happens in Edinburgh stays in Edinburgh —
if Mike Argent has anything to say about it.
This Can't Be Love, is the second novel in my Americans In Love, in Europe series, a story set in Edinburgh during the Fringe Festival. What chance does love have to bloom and grow between Mike Argent, an itinerant construction worker, and Jakki Hunter, a quirky actress?
Like all my contemporary novels, This Can't Be Love is a Big City Romance and a Semi-sweet Romance. The In Love, in Europe series features Americans falling in love in many of Europe's fabulous and familiar cities.
The love affair between Mike and Jakki meets with resistance from her many former wannabe lovers, one of whom takes his rejection revenge to a level of violence that reawakens all Mike's worst memories.
He's put the past to the back of his mind. He has the freedom from entanglements he wants. Why does he need this ditzy dame and her troubles in his life?
This Can't Be Love is now available at major online retailers including KoboBooks, on the iBookstore, Smashwords and is also available in print at other online booksellers, as well as Public Libraries.
2014 Releases
When I first wrote Salsa Dancing with Pterodactyls, the book grew exponentially as ideas came into my head. This was one of the novels in reams of pages I mentioned above.
After several rewrites and revisions, I published this novel in two volumes, much like Charles Dickens. However, after a few months, I realized that this was one book and should be read as one whole book, not a book in two parts. With a new cover and ISBN, Salsa Dancing with Pterodactyls is back. The story hasn't changed. Emily is still a dancing angel and David is still a flying reptile. Salsa Dancing with Pterodactyls is a multicultural, interracial love story of an American family.
Salsa Dancing with Pterodactyls is available on KOBO , Barnes & Noble for the Nook, Versent Books, and Smashwords. The novel is also available in paperback and as an ebook on the iBookstore.
2013 Releases
Serial Novel: Nights Before
In the final story in the Nights Before serial novel, 'Twas the Night Before Christmas Eve, Christmas Past and Christmas Previous haven't been all Jocelyn Tavers wished, but Christmas Present and Christmas Future are in capable hands – her own.
But even the best laid plans have a way of meeting disaster head-on. No surprise that her ex has every intention of spoiling Christmas and any hope of a happy future. He doesn't want her but he doesn't want anyone else to want her either. A burst of wishful enthusiasm sinks her further into impersonating someone she's never likely to be, especially if a certain law-abiding citizen isn't in a generous frame of mind.
Man-trouble doesn't end with ex-boyfriends or those she'd most like to be new boyfriends. Better than holiday spirit, Santa has a special gift wrapped up, warmed up and ready to fulfill all her cherished desires but first she must come to grips with the foundations of any good relationship.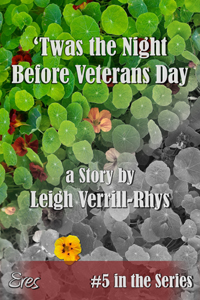 The penultimate story in the Nights Before serial novel is 'Twas the Night Before Veterans Day. Months of job-hunting, land Jocelyn in the protective custody of a close friend and seeking the help of a French-speaking public servant whose absence has cracked her façade of laissez faire and nonchalance.
Who would have thought a tow truck driver would be her rock in a hard place?
Working a few days a week keeps her snazzy 4×4, Spike, from running out of gas and a meal on her table but can't bring in enough to keep minutes on her cell phone when her former managing editor wants to contact her with a change of plans.
Both of her least favorite authors have made demands and she can't say no when her rent needs paying. To compound her confusion, the trailer park nymphomaniac has competition when a new voice with attitude pipes up, giving orders and the occasional sound advice. The Veterans Day weekend brings more than a headstrong lawman to Jocelyn's door on a night she won't soon forget.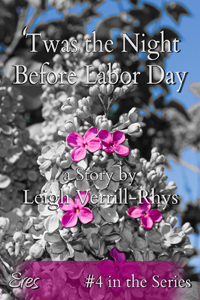 In the fourth story, 'Twas the Night Before Labor Day, just when Jocelyn believes she has a grip on her job, the publisher throws a task in her path that proves to be wicked near impossible without the help of a friend, if she can find one.
The work she's editing for her absent father's apologist strikes chords Jocelyn would prefer to remain silent. The mad scientist reveals his mother's savory past. Steel proves as reliable as lightning for jump-starting the disheartened. But in the case of one public servant, absence does not make the heart grow fonder.
The Nights Before serial novel now has a third story about Jocelyn and her three suitors. In 'Twas the Night Before Mother's Day, Jocelyn faces the first Mother's Day without her mother and the sudden appearance of a well-dressed man who seems to know more about her, her mother and absent father than a stranger should.
An officer of the law, the ex and her eccentric author pick up and scatter pieces all over the Bowdoin College campus in Brunswick, Maine.
All the books in this series have had newly designed covers by the graphic artist, Gwiboz.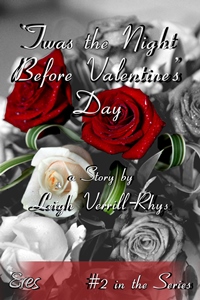 This new cover is for the second story in my serial novel, Nights Before, about Jocelyn Tavers and her unwise princes is 'Twas the Night Before Valentine's Day. Jocelyn is juggling unwise princes, an ex-boyfriend and her rebuilt 4×4 on one of the coldest days of a Maine winter.
Her big date on the night before the day for lovers has some surprises in store but so do her ex and the weather forecaster.
What does it take for a girl to get some adoration of her own?
'Twas the Night Before Valentine's Day is a bestseller is available on the iBookstore as well as Smashwords, Kobo, Diesel-ebooks and Barnes & Noble.
My New Year's Eve Romance, 'Twas the Night Before New Year, has a new cover and is available on Smashwords and at other major online booksellers Barnes and Noble, Kobo.
New Year's Eve is a time for reflection and change. Jocelyn has more changes coming at her from all directions on this Portland, Maine winter day than she's faced since her mother's death.
None of it bodes well for the junior editor's fledgling career when her fiancé abandons her to spend this holiday alone. If not for three unwise princes, a Viking warrior and a sinkhole…
A short story – alone for New Year's Eve, what can be worse for a single girl? A lot!
Debut Novel, April 2012
My debut novel is Wait a Lonely Lifetime published by Avalon Books, New York. This was a work in progress when I spoke to Lia Brown in July 2010. By the end of September, the book was in her hands. You can read about this book, my process in writing it and what happens next in my online writer's journal, Ever Writing. I was a guest at Four Foxes One Hound on the 28th of April 2011, and was interviewed at USAToday by Joyce Lamb, whose two Paranormal Romances are finalists in the RWA RITA®. After completing Wait a Lonely Lifetime, I realized I had many other stories about Americans in Love.
My Facebook page, Leigh Verrill-Rhys, Novelist, has details of the publication date, what my editor says about this novel and other information. Wait a Lonely Lifetime is now available in Public Libraries and online book retailers: as ebooks or paperback on Barnes & Noble or a signed hardbound copy.