NIGHTS BEFORE #4: 'Twas the Night Before Labor Day : Excerpt
One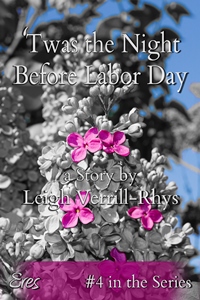 If she was the kind of tilt-nosed creature Jason preferred, an evening at the Eastland would have done the trick. Gordon could have had his way with her but Portland's historic hotel was no more. Jocelyn wasn't an uphill girl. They went to the café of the grandest department store, finishing the meal with brownies and hot cocoa – double chocolate-caffeine intake mania about to launch.
"I've always liked this place," her Thursday afternoon date admitted. "Mother worked in Ladies Intimate Apparel. I met her here after school and we'd ride the bus home together."
"Your mother worked?"
"Of course. Her father left her the house but no means to buy food or pay the taxes. Especially after I came along."
Jocelyn shouldn't have but she wanted to know and it was a natural response to the topic he'd raised. "What about your father?"
"No idea. Mother never talked about him."
Oh. Conversation stopper, plain as broad daylight. What could she say? Sorry wasn't appropriate since he clearly wasn't. His whole life, undivided attention and adoration. She couldn't blame him. If her dad had stuck around… Don't go there, Joey-Jo. You don't want him. Remember that. He wasn't around for the hard years, why should she need or want him when this part was getting better?
"—So she kills him."
"What?!" "The lab tech. Weren't you listening?"
Zolzadeh moments weren't the exclusive domain of writers. "Oh, of course. That makes sense." But only in the sense that the lab tech must have had a reason and he was't talking about his mother's murder of his father.
"No, Jocelyn. It doesn't ...That's the point." Gordon exhaled a huff. "This will take some thought. An imaginative leap."
"I can see that."
He had looked at her for one agonized moment and finished his hot cocoa. Half the brownie remained on his gilt-edged dessert plate. Her brownie and cocoa were long gone, scarfed down without thought or imagination. Ho hum. Not the most inspiring of moments in her life so far. The creative, scientific genius deserved better.
o o o
'Twas the Night Before Labor Day was released on Sunday, the day before Labor Day, 2013. The story is available on the Smashwords and shortly after on the iBookstore, Kobo, Barnes & Noble and Amazon.